PLACEMENT WEEK
The placement week at IIM Indore begins February 17, 2000. [Details]
MDP: CREATING CUSTOMER-DRIVEN ORGANIZATION
A MDP on 'Creating Customer-driven Organization' is being conducted on Feb. 21-22 at IIMI. [Details]
NATIONAL HRD NETWORK INDORE CHAPTER
The Indore Chapter of the National HRD Network, was opened at the Indian Institute of Management, Indore. [Details]
IIMI STORMS JCM AT KSHITIJ '99, IIMA
IIMI teams won the first and the third prizes at the Case analysis competition at Indian Institute of Management Ahmedabad [Details]
IIMI WINS AT KIAMS
Participants of IIM Indore, have won the first prize at the Kirlosakar Institute of Advanced Management Studies paper presentation contest. [Details]
IIMI BEST AT WORLD STRATEGY FORUM
IIM Indore was declared the best Management Institute at the World Strategy Forum 1999 at Bombay. [Details]
IIMI WINS AT MANTHAN '99
Abhijat Mitra and Ajay Sharma, PGP2 participants of IIM Indore, have won the first prize in the All India HR paper presentation at Manthan '99, at TISS Mumbai. [Details]
---
|| Logo || Board of Governors || Awards and Honours || Road Ahead ||
---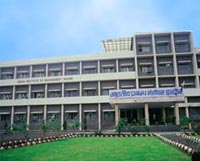 IIM Indore is the latest entrant to the IIM family, with the prime objective to develop socially sensitive business leaders and managers who are conversant with state of the art technology and possess exceptional decision -making skills.
---
Within three years we have proved we can achieve more than what others have in a decade or more. According to the Asia Inc., the IIM Indore Post-Graduate Diploma in Management (PGDM) programme is among the top 86 management programmes in the Asia Pacific region. Within India, we have been ranked among the top 6 management schools.
---
Vision: IIMI shall be a leader among world class management institutions impacting organizations and society through innovative excellence instilling pride in the stakeholders.

Mission: IIMI is committed to:
Facilitating and enhancing the global competitiveness of organizations through leaders, entrepreneurs and managers equipped with state of the art management knowledge

Generating, acquiring, assimilating and exchanging management know-how in, and from, the global community

A culture of trust, fairness, tolerance to differences, and a positive orientation

Furthering creativity and pursuit of quality in all our endeavours and accomplishments

Innovative, globally benchmarked products and processes for education, training, consulting and research and development in management.
---
IIM Indore currently functions from the Govt. Women's Polytechnic at Rajendra Nagar, located midway between downtown Indore and the proposed campus near village Rau. This location has more than 2300 sq metre area exclusively for IIMI offices and classrooms. Indore is a hub of industrial activity in central India and is attracting large investment from domestic as well as foreign companies. IIMI is in the process of building strong industrial linkages, which would enable it to offer high quality business education, combined with real-life experience through innovative programmes.
---
Copyright © 1998,1999, 2000 IIM Indore. All rights reserved.
Indian Institute of Management, Rajendra Nagar, Indore 452 012, Madhya Pradesh INDIA
Tel: 91-731-786191, 786192, 786193, 786194, 788505, 788523 Fax: 91-731-788506


Webmaster